Dan & Mike in the Morning
Getting Dirty for a Good Cause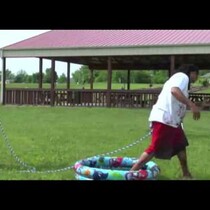 Posted June 19th, 2013 @ 8:45am
Wednesday, Zion Baptist Church Youth Director Ric McConnell and Youth Leader Butch Howard shared details about the Church's 1st Anti-Bullying/Suicide Prevention Field Day which will be held Saturday June 29th from 10am-2pm at the church.
There will be food, games and fun for all ages, but as Howard and McConnell explain, speakers will talk about bullying and its affects on our youth. They'll also address teen suicide with the direction of the Ross County Coalition to Prevent Suicide.
Howard and McConnell produced a video to exhibit some of the events that will take place during the Field Day.
To participate, registration is $5 per person or $20 per team of four. You'll find registration forms at our studios.